Laid out in 1815, Orleans Square and Jackson Ward honor the heroes of the Battle of New Orleans during the War of 1812. Dedicated to the German immigrants of Savannah by the German Society, a picturesque fountain sits in the center of the square surrounded by live oak trees covered in swaying Spanish moss.
Andrew Jackson and the Battle of New Orleans
The hero of the Battle of New Orleans was General Andrew Jackson, who eventually became President of the United States. He was critical to the development of early Georgia by conquering and evacuating the Creek Indians and Cherokee, allowing the settlers to colonize.
Attractions on Orleans Square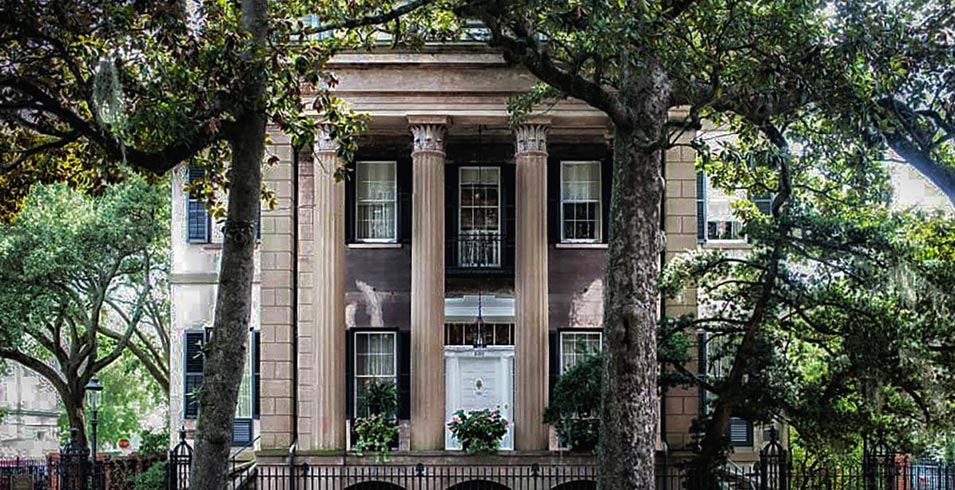 The Champion-McAlpin House, better known as the Harper-Fowlkes House, began construction in 1843. Through many financial troubles, family members, and years of turmoil, the home is now open to the public as a museum today.
Many prominent architects and builders of the early nineteenth century have influenced the atmosphere on Orleans Square; Charles Cluskey, John H. Ash, Dewitt Bruyn, John Morel, and Walter Charlton Hartridge to name a few. Many homes have a New England feel to them, with clapboard siding and high stoops, common for the time period as most of the builders and designers were from that area of the United States.
Orleans Square today
Located behind the Savannah Civic Center and Savannah College of Art and Design's Oglethorpe House, Orleans Square has a campus-like atmosphere. With the Harper-Fowlkes House in view, stone benches surround the dedicated fountain and create a great place for every weary traveler to rest and take in all Savannah has to offer.