A sunny place to spread out a picnic blanket or sit on a bench and enjoy the cool breeze, Greene Square is located at Houston and President Streets in Savannah. Greene Square was designed in 1799 and named in honor of General Nathanael Greene, a Revolutionary War hero who fought against the British and hailed from New England.
The Second African Baptist Church is across the street from the square as well as many notable historic homes and structures surrounding the area.
General Nathanael Greene
Most of the Squares and Streets of Savannah were named after Revolutionary War heroes and patriots. Nathanael Greene was certainly no exception. He fought the British in the South and for his valiant efforts, he was rewarded and thanked for his service with the Mulberry Plantation. No sooner did the General move his family to Savannah, then he died of a heat stroke in the stifling humid heat of summer in the South.
The Homes of Greene Square and Greene Ward
Isaiah Davenport was a distinguished Savannah home builder in his hay day. 124 Houston Street, a home built by Davenport, resides across the street from Greene Square and is a charming example of early nineteenth century architecture. Most of the buildings designed by the prominent architect were destroyed in the ravaging fires of the city, but the Davenport House Museum also remains today. It is a short walk away from Greene Square and a great representation of an American Federal-style home with artifacts dating from 1820-27. It is also home to the Historic Savannah Foundation.
Many historically significant homes line Greene Square and Greene Ward; 536 East State Street, a home built for John Dorsett in 1845, was originally located on Hull Street, but moved to State Street for preservation.
Once an orphanage for girls when orphanages in Bethesda were found unusable, 117-119 Houston Street was built in 1810. The orphanage moved to a new building on Bull Street in 1838, but the original home stands today.
Built in 1853, 513 East York Street was the home of Catherine DeVeaux. Her family tree included: John DeVeaux, founder of the Colored Tribune Newspaper, which later became the Savannah Tribune and Jane DeVeaux, who established a secret school for African Americans to learn reading and writing at a time when it was illegal to do so.
Attractions on Greene Square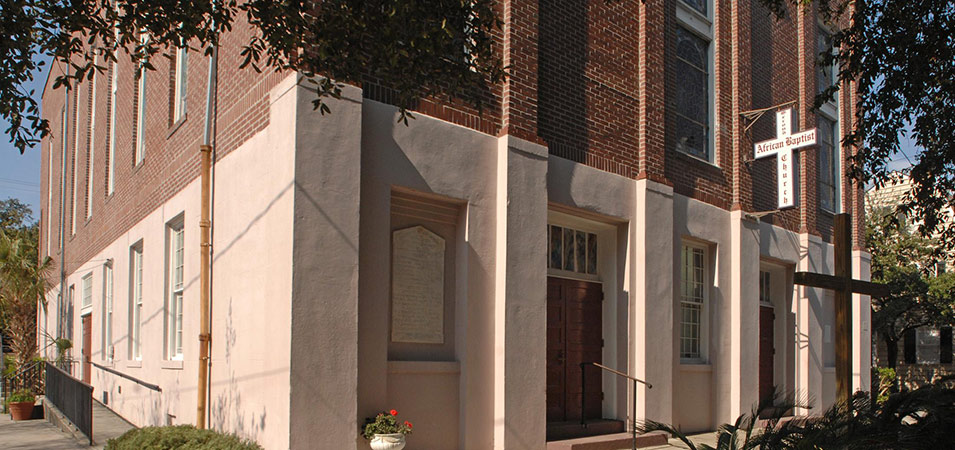 Originally built in 1802, replaced after a fire by a new building in 1925, and located at 123 Houston St., the Second African Baptist Church has a story to tell. The original pulpit, prayer benches, and choir chairs of the destroyed structure are still in use today and play a pivotal role in the rich history of the congregation. Baptist leader Andrew Bryan founded the church with 26 members in a predominantly white neighborhood. The community agreed to a trust lot in exchange for rent paid by the members of the church.
Secretary of War, Edwin M. Stanton and General William T. Sherman were graciously hosted by the Second African Baptist Church in 1864. From the steps of the structure Sherman read the Emancipation Proclamation to Savannah's citizens, promising "40 acres and a mule" to each freed slave.
Nearly a century later, Dr. Martin Luther King Jr. would preach his "I Have a Dream" sermon from the pulpit of the Second African Baptist Church, a sermon he would repeat during the march on Washington in 1963.