Ellis Square is one of the great stories of the preservation and restoration effort in Savannah. Not too many years ago, Ellis Square was a parking garage. The parking area was eventually demolished and replaced with the Square we see today. Even though many people think the Square should have been designed in a more traditional manner when it was restored, there is no doubting that Ellis Square is one of the most popular Squares in Savannah, for locals and tourists alike.
Ellis Square was originally laid out in 1733 is located in the Decker Ward. Ellis Square functioned as a market area for citizens of Savannah until the 1950's. In addition to numerous general good markets Ellis Square was also the location of Slave Auctions in Savannah prior to General Sherman's invasion of Savannah.
Today Ellis Square is a bustling place. With City Market at its doorstep, many people choose Ellis Square as a place to relax and soak up some southern sun.
Attractions on Ellis Square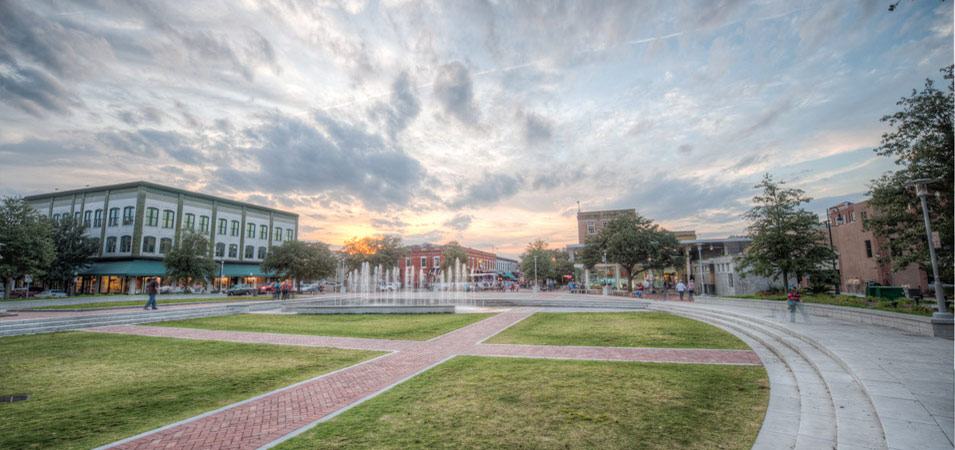 The Ellis Square Fountains
The fountains in Ellis Square are probably the most modern...anything...in the Squares in Savannah. Shooting water straight up into the air from underground, the jets of water dance around in random patterns. If you pay close attention you can figure it out and walk through the entire length of the fountain without getting wet. At night, the city of Savannah usually puts the lights on, making the jets of water different colors. It is a beautiful sight. Many times of the day, especially during the hot summer heat, you will find children and even adults running through the fountain to experience the relieve the water brings. The fountains and lights are set to go off at different times in patterned sequences. If you watch them long enough the pattern will become apparent to you and you can walk through the entire fountain without getting wet. Of course people attempt this, and some are even successful.
If you want to catch the fountains in Ellis Square doing their dance make sure you arrive prior to 10pm. Most nights the fountain are turned off at 10 so get there with plenty of time to check them out and maybe even dare your children to take a chance running through them.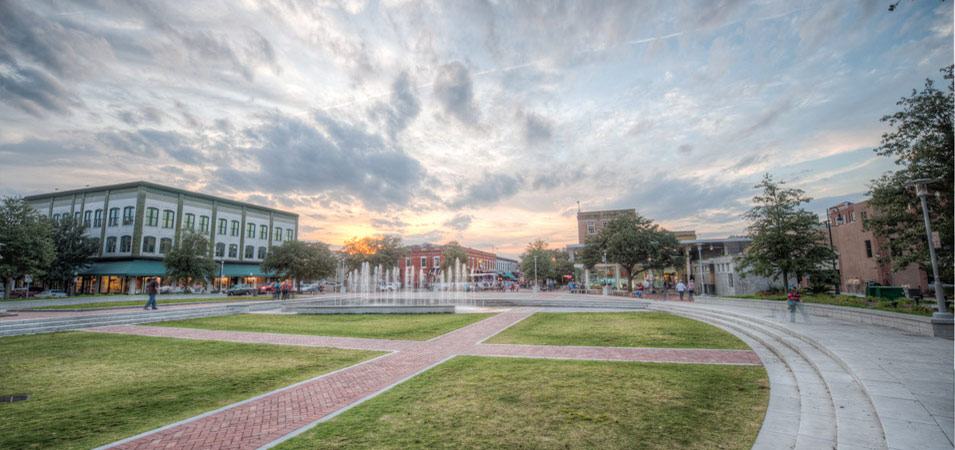 Johnny Mercer Statue
On the west side of Ellis Square is a small sculpture of the famed Savannahian himself, Johnny Mercer. This bronze statue was actually sculpted by one of our own artist, Susie Chisholm. Make sure to give the statue a look over.
When it is crowded the statue to Johnny Mercer is easy to overlook. It is placed right on the ground as if it was a person leaning up against a prop. Here is a hint...look for the solid bronze person in the crowd...it should be the statue, but you never know.