The allure of Bonaventure Cemetery has captivated many. The New Orleans Picayune newspaper published a letter from a woman, Belle Brittan, in 1858, that tells the story of a clergyman who was "smitten with the beauty of death" and plunged into the Wilmington River. He committed suicide with the hopes of being buried in Bonaventure, convinced that only there amongst the elaborate monuments and towering obelisks, could he rest in peace for all of eternity.
There was a lovely romanticism around death during Victorian times. The dead didn't have to be kept at home anymore, as funeral parlors began to pop up, families could trust the care of their deceased loved ones to the willing professional hands of those who made death their career. And with the new invention of embalming, our dearly beloved could be on display for days, welcoming friends and family to pay their respects. Cosmetics began to be used on the dead, caskets were no longer plain wooden boxes but beautiful ornate pieces carved from the finest woods, and headstones became intricate and ornate monuments to those who had passed over from their mortal life. Cemeteries we no longer simple graveyards, they had become parks filled with beauty and welcomed both the dead and the living.
Stroll through Bonaventure Cemetery today and you will experience a sort of revelry in how the residences' lives are displayed in adoring and poetic epitaphs. Angels and cherubs act as sweet guardians to the graves, and the huge Oak Trees protect the visitors with hugs of shade and the company of shadows. The history and the elegance of Bonaventure truly makes her a Southern gem.
The History of Bonaventure Cemetery
Bonaventure Cemetery is located on ground which was originally a plantation just south of the city of Savannah. The original plantation was owned by John Mullryne. William H. Wiltberger, whose father bought the Plantation from Josiah Tattnall in 1846, formed the Evergreen Cemetery Company on June 12, 1868. On July 7th, 1907, the city of Savannah purchased the land and the cemetery, renaming it to Bonaventure Cemetery.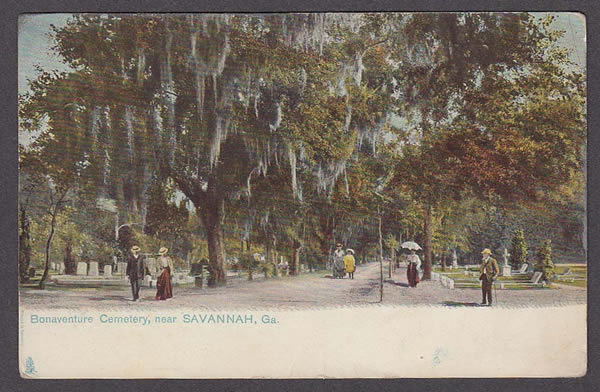 Bonaventure Cemetery was created in 1846, before the Civil War. Originally the plantation home of the Tattnall and Mullryne families, who by 1771 owned over 9,000 acres of land in south Georgia, and were faithful followers of King George III during the Revolutionary War. Their allegiance to the Crown forced them to flee the country and their lands were put on the auction block in 1782. But in 1785, Josiah Tattnall, son of Josiah Tattnall and Mary Mullryne, finished his studies at Eton College in England and returned to Savannah. He bought back Bonaventure Plantation, his birthplace.
Josiah married Harriet Fenwick one year later and together they had quite a few children. Unfortunately, most died in infancy, only three lived to adulthood. Josiah and Harriet are both buried in Bonaventure, with their children. Josiah was a prominent Georgia politician throughout his life. He was elected Georgia Governor in 1800, after spending years as a Georgia Legislator and US Senator from 1796-1799. He is one of many influencers who make their permanent residence in the grounds of Bonaventure.
Today, Bonaventure Cemetery is one of the most visited locations in and around historic Savannah. The grounds are widely considered to be one of the most beautiful cemeteries in all of our country. The old growth oaks covered in Spanish Moss and the Victorian grave markers contribute to Bonaventure's beauty. You will walk down dusty lanes, the dead buried on either side of you. It can be overwhelming at times. The experience of spending time in Bonaventure Cemetery has brought many people to tears. It is a very spiritual experience.
Notable Burials
There are a number of well known individuals laid to rest inside the walls of Bonaventure Cemetery. Perhaps the most well know is Johnny Mercer. The famous American song-writer is laid to rest in a part of the cemetery close to the Bull River. His grave is one of the most visited graves in Bonaventure Cemetery. Another well known person to be buried in Bonaventure is Conrad Aiken. Aiken grew up in Savannah where he wrote some of his novels and poems.
Another person who is buried in Bonaventure, who gets a lot of attention, is Little Gracie Watkins. Gracie died when she was only six years old. Her father had a sculpture carve a true-to-live statue of Gracie for her grave. Gracie's burial site is probably the most visited grave site in Bonaventure. The wrought iron fence surrounding his grave is almost always adorned with flowers, stuffed animals and other trinkets that would make a child happy.
Statues to the dead at Bonaventure
Calling them gravestones simply does not do them justice. Many of the grave markers at Bonaventure Cemetery are true works of art. Sculptures worked for untold hours creating these beautiful statues and monuments to the dead who are buried in the grounds of Bonaventure Cemetery. Bonaventure is more than a simple cemetery, it is an outdoor sculpture garden that has few rivals in the country.
When you head to Bonaventure Cemetery make sure you take a camera with you. Undoubtedly there will be many photo-ops throughout the cemetery. The best time to go to Bonaventure, for photos or just to visit, is in the morning. The lighting is better, the temperatures haven't reached their peak yet.
Many of the monuments and statues in Bonaventure Cemetery are of a religious nature, as should be expected in a cemetery. You will find many crosses and Angels throughout Bonaventure. On the graves of children who died young it is common to have a lamb on the gravestone. You will also notice a lot of obelisks throughout Bonaventure Cemetery.
On your next trip to Savannah make sure you plan a morning to go visit Bonaventure Cemetery. You will be amazed by the peaceful beauty of Bonaventure.
Bonaventure Cemetery Tours
Bonaventure Cemetery is a very large cemetery and it can be easy to get lost inside of the cemetery. The best way to see everything that Bonaventure has to offer is taking a tour. Gallivanter offers guided tours of Bonaventure, allowing you to make the best use of your time.
On our tours you'll see many of the famous burial sites in Bonaventure. You'll feel a deeper connection with the land, and the people laid to rest here, as you hear their stories. Our Bonaventure Tours take place daily - but, you must purchase your tickets in advance. As you can imagine, tour in Bonaventure are very popular and often sell out days in advance.
Visiting Bonaventure Cemetery
Bonaventure Cemetery is located just south of the city of Savannah. If you have use of a GPS unit, type in 330 Bonaventure Road. This address will take you right to the entrance of the Cemetery. Check out the map for more information about how to get to Bonaventure Cemetery.
If you are visiting Bonaventure Cemetery in the spring or summer make sure to bring water and sunscreen. The temperatures can reach into the triple digits at times. The humidity can make it feel like you are walking through a swimming pool at times. You will need to stay rehydrated. It is best to avoid the mid-day heat and sun when visiting Bonaventure. In the summer, the best time to visit the cemetery is in the morning, before temperatures rise. Visiting Bonaventure in the Spring, when the azaleas are blooming is also a popular time. Bonaventure Cemetery opens at 8am every morning, so you can get there pretty early.