Designed in 1847 and named in honor of the Battle of Monterey during the Mexican American War, Monterey Square resides at Bull and Wayne Streets. A beautifully shaded square with massive trees and magnificent landscaping, the center holds a stately monument in remembrance of General Casimir Pulaski. Most notably, the setting for "Midnight in the Garden of Good and Evil" resides at the Mercer-Williams house across the street.
Battle of Monterey and the Irish Jasper Greens
In 1842, the growing population of Irish immigrants in Savannah wanted to feel more at home and welcomed in their new land, so they created their own military unit to aid Georgia in whatever battles needed to be fought. They called themselves the Irish Jasper Greens. During the Battle of Monterey in 1846 at the same time as the Mexican American War, the Irish Jasper Greens fought bravely. As such, their courage is memorialized in the naming of Monterey Square.
Casimir Pulaski
In the center of Monterey Square, lies an imperial monument in honor of Casimir Pulaski. Casimir was a Polish nobleman who died in the Siege of Savannah fighting alongside Americans. He moved to Georgia in hopes of a better life, and instead sacrificed his own life for the safety of others.
Attractions on Monterey Square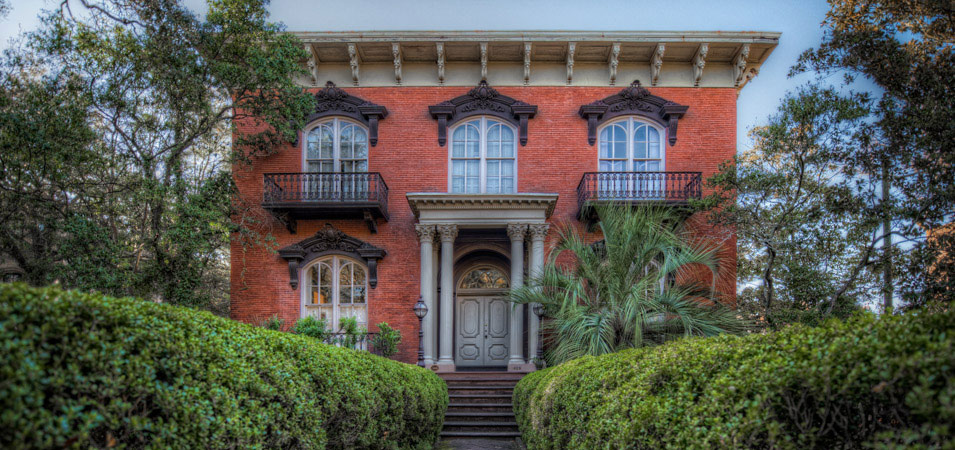 The Mercer-Williams House, famous for "Midnight in the Garden of Good and Evil", makes Monterey Square perhaps the most recognized square in all of Savannah. Located at 429 Bull Street, the home began construction in 1860, but wasn't completed until after the Civil War. Hugh Mercer, the original owner of the house, enlisted in the war and never had the chance to complete his home, nor live in it. Construction on the estate was not completed until 1871.
Jim Williams purchased and restored the home in the 1950s, creating a preservation movement that the city of Savannah is credited for today.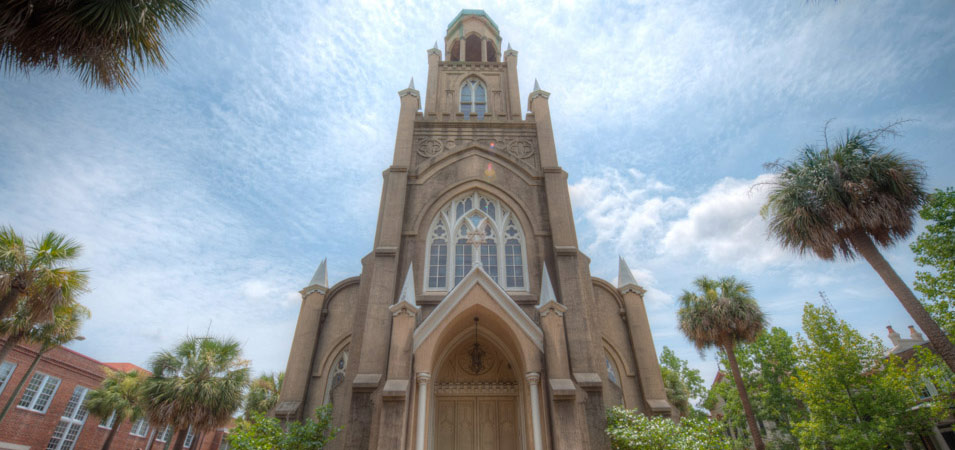 Five months after General James Edward Oglethorpe founded the colony of Georgia, the largest group of Jews to touch down on North American soil during Colonial times, entered Savannah's borders on July 11th, 1733.
Organized in 1735 as one of the first synagogues in the United States, Temple Mickve Israel was consecrated at its current location in 1878 and is a unique example of Gothic-style.
Savannah's Statues and Monuments
Dedicated to Cashmir Pulaski, this tall monument can be found in the center of Monterey Square
Monterey Square today
Today, Monterey Square is surrounded by many one-of-a-kind boutiques, art galleries, and antiques stores. The Hurn Museum of Contemporary Art is across the street as well.