A gorgeous century-old house stands on the corner of Abercorn and Wayne Streets. Known as 432 Abercorn Street, the Savannah, Georgia, home is famous for the superstitions that surround it.
Every year, locals and tourists flock to this location to admire the beauty of this antique gem and investigate its history.
Superstitions aside, the design and grandeur of the home are what make it so appealing. The antiquity of the building is preserved, making it a palpable image of the past.
The house represents long-forgotten architectural styles and vintage flare. In addition, elements incorporated in its decor are no longer manufactured, rendering it an invaluable piece of history.
The Home's First Owner
Number 432 was built for Civil War veteran Benjamin J. Wilson in 1868. Mr. Wilson, born in Belfast, Ireland, migrated to New York when he was sixteen years old.
In 1839, shortly after arriving in New York, Wilson moved around and settled in different states. He lived in Massachusetts, Georgia, and Alabama, seemingly preferring the southern states.
He lived in Alabama for several years and worked in the cotton industry as a machine operator. His hard work paid off, and he eventually became a partner in the Okfuskee Cotton Manufacturing Company.
Since cotton was in high demand at the time and the cotton trade was thriving, his partnership in the company brought him a lot of wealth.
In 1866, he left Alabama and settled in Atlanta. While in Georgia, he put his money to good use, investing in banks and purchasing properties and land around the state capital.
While in Atlanta, Benjamin Wilson became a Freemason and active member of the Presbyterian Church.
Life in Savannah
The exact time frame of when Wilson moved to Savannah is unknown, but it must have been some time between 1866 and 1869.
The construction of Wilson's 423 Abercorn Street home began in 1868. In 1869, Wilson, his wife, and their children moved into the three-story building upon the home's completion.
It was considered to be the most expensive home in Savannah, valued at over $20,000.
Savannah suffered three yellow fever epidemics during the 19th century; the first wave occurred in 1820, the second in 1854, and the third in 1876.
Unfortunately, General Wilson's second wife was one of the people taken by the severe disease. Although the exact year when she became ill is unknown, it is believed that she died during the 1876 epidemic.
Not much else is known about the life of Benjamin Wilson and his family or how long they lived at 432 Abercorn Street. However, we do know that he married twice and had six children in his lifetime.
Rumors at 432 Abercorn Street
Even though our purpose is to disseminate facts and accurate information about the many historic buildings in Savannah, it is essential to touch on some of the tall tales and rumors that the home is known for.
Misinformation and lack of documentation on General Wilson and his family have motivated locals to fabricate legends about the home's origins and sinister stories about the family.
According to legend, Benjamin Wilson left one of his young daughters bound to a chair for days in front of a window until she died of heat exhaustion. It is also believed that Wilson committed suicide in the home.
However, historical records indicate that he died of natural causes in 1896 in Colorado Springs, CO. His daughters - Carrie Wilson Tye and Mary Dell Wilson Potts - lived to adulthood.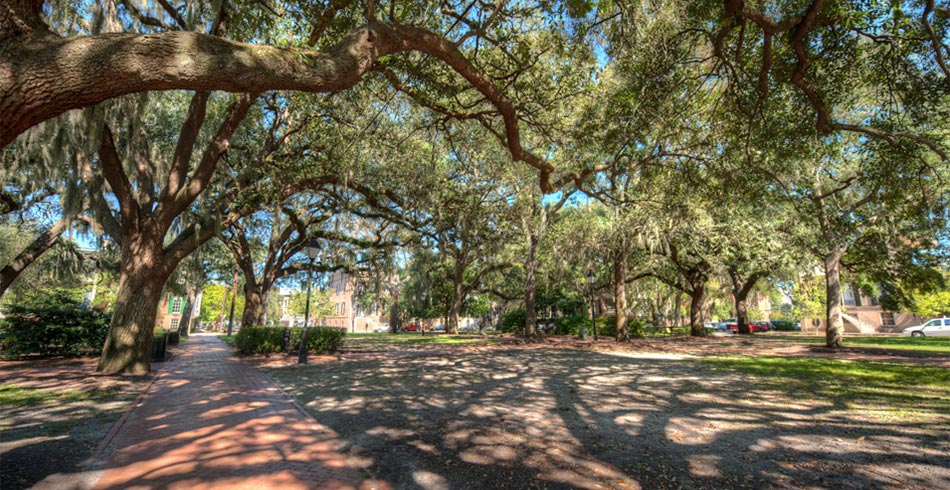 Location and Surrounding Areas
The home faces Calhoun Square, a beautifully paved area with benches and Spanish moss-covered oak trees. Calhoun Square is the only square in Savannah surrounded by original buildings, adding to the area's historical richness.
Although it can be hard to imagine how this area could have ever been anything but a gorgeous attraction, it was once a burial ground.
Most of Savannah's roads and buildings were built over forgotten African enslaved people and sacred Native American gravesites.
According to several local historians, when the area's development began, the newly-discovered remains were paved over instead of being relocated. This could explain why the beautifully antiqued home has been associated with negativity and hauntings.
The Home's Design
This 19th-century home was built in traditional Regency style, much like many of the original buildings in Savannah. The home features three stories; the main entrance is on what is considered the second floor.
The home's façade features an intricate cast-iron entryway and somewhat of an asymmetrical design. The front entrance is accessible by a slightly curved staircase that touches the sidewalk and reaches the second floor directly.
The front of the home has five hung windows and three large bay windows on the third floor. Some of the hung windows are framed by dark louvered shutters, while others are topped with antique crown moldings.
While the left side of the building consists simply of windows, the right side offers a wholly different yet much more impressive design. This side has multiple windows and doors enclosed by a beautiful cast-iron balcony, columns, and spiral staircase.
The home had not been lived in for years at one point, which took a toll on its once awe-inspiring appearance.
However, the house was recently put on the market and sold for over a million dollars. The current owner stated he intended to restore it to its original state.
The current owners kept their promise and completed the renovation of the illustrious home in 2021; even winning a Historic Savannah Preservation Award for it.
Visit 432 Abercorn Street
When visiting 432 Abercorn Street, we want to respect the property and its owners. So, while keeping a safe distance, stroll by house number 432 to glance at Savannah's rich past and exquisite architecture. Don't forget to take a picture!